On the last 6th December, 2014, Malaysia Lysosomal Diseases Association (MLDA) had successfully organised the 'Every Life Counts' Charity Dinner. It was a lovely and wonderful event.
The event has been organised in conjungtion with the partnership from Malaysia Metabolic Society (MMS) and the Malaysia Ministry of Health. The mean objective of this dinner was to raise money to get up a Foundation to save the LSD children. In Malaysia, public recognize a Foundation more than an association and society. In the past MLDA had many rejections from corporate companies when MLDA tried to ask for a donation and partnership in projects. To be able to establish a Foundation MLDA needed at least 1 million RM.
At MLDA's first dinner in 2012 RM 400,000 was raised. With the last charity dinner with 700 guests participating RM 800,000 could be raised. With the raised money of both dinners MLDA is now able to establish the needed Foundation.
The presence of the State's King and Queen at the charity dinner not only encouraged MLDA to stand for their mission and goal to get good care and treatment for children with LSD's, it also helped MLDA to secure a RM 2 million financial grant from the the Ministry of Finance and an additional RM 1 million from the Ministry of Health.
MLDA is grateful and thanks His Royal HIghness Yang di-Pertuan Besar Negeri Sembilan Darul Khusus Tuanku Muhriz Ibni Almarhum Tuanku Munawir and Her Royal Highness Tunku Ampuan Besar Negeri Sembilan Darul Khusus Tuanku Aishah Rohani Binti Almarhum Tengku Besar Mahmud for gracing the charity dinner.
MLDA also would like to thank the Japan MPS Society, Mr. Takeyuki Akiyama for coming all the way from Japan to share with the audience to impacto of having enzyme replacement therapy (ERT) and the differences between early and late treatment. He is father to two MPS type 6 children. His son Yuto started ERT late and shows now the typical features and symptoms of a MPS type 6 patient. His daughter Noa, however, started ERT early and shows minimum signs of MPS type 6. No one knows that she is an MPS type 6 patient.
MLDA also thanks all members, employees, volunteers and sponsors that provided their best support. Without this help the charity dinner couldn't be organised within a timeline of 3 months. Together, with hope and determination, this charity dinner was made a success.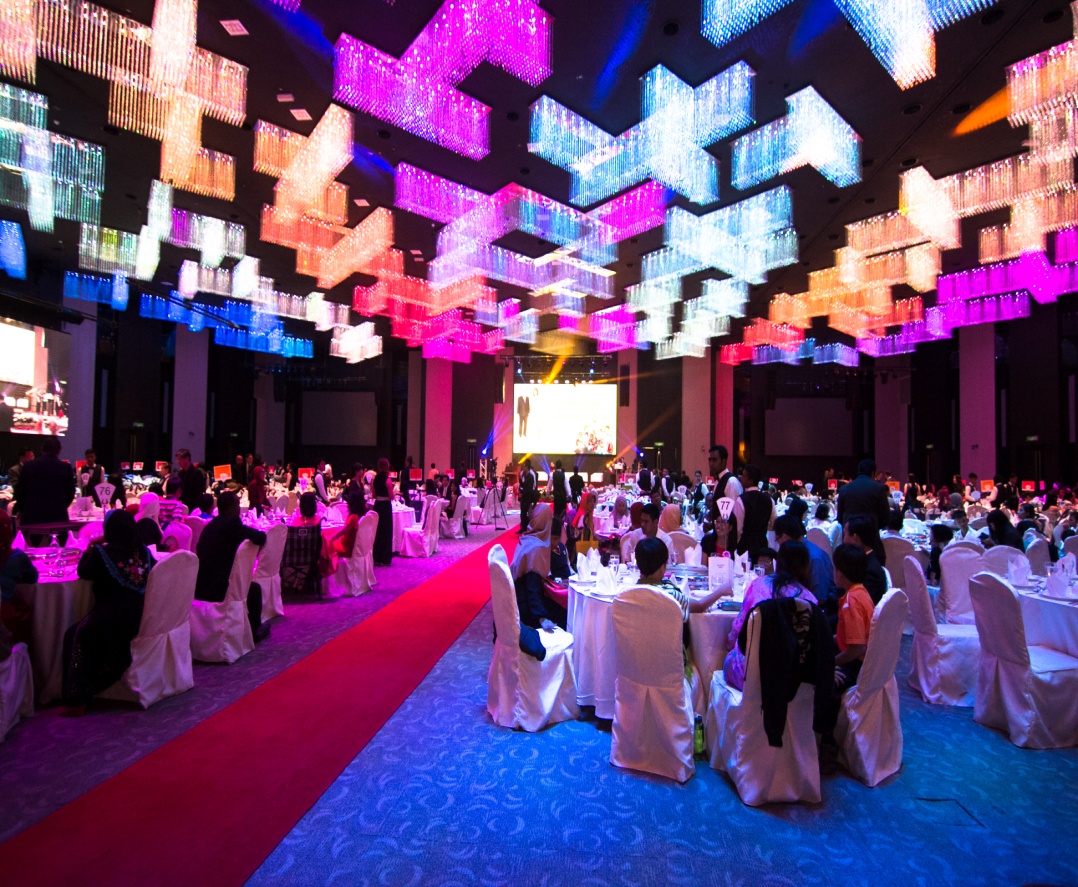 The Charity Dinner visited by 700 people to support MLDA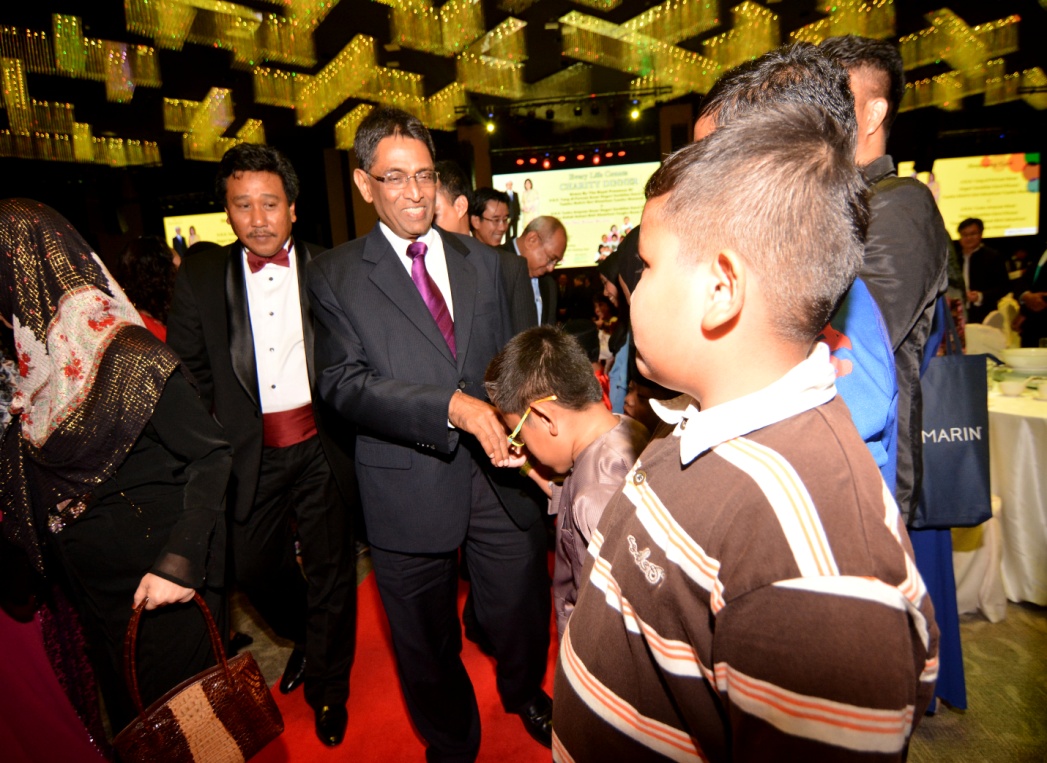 The Minister of Health welcomed by Haziq a MPS type 6 patient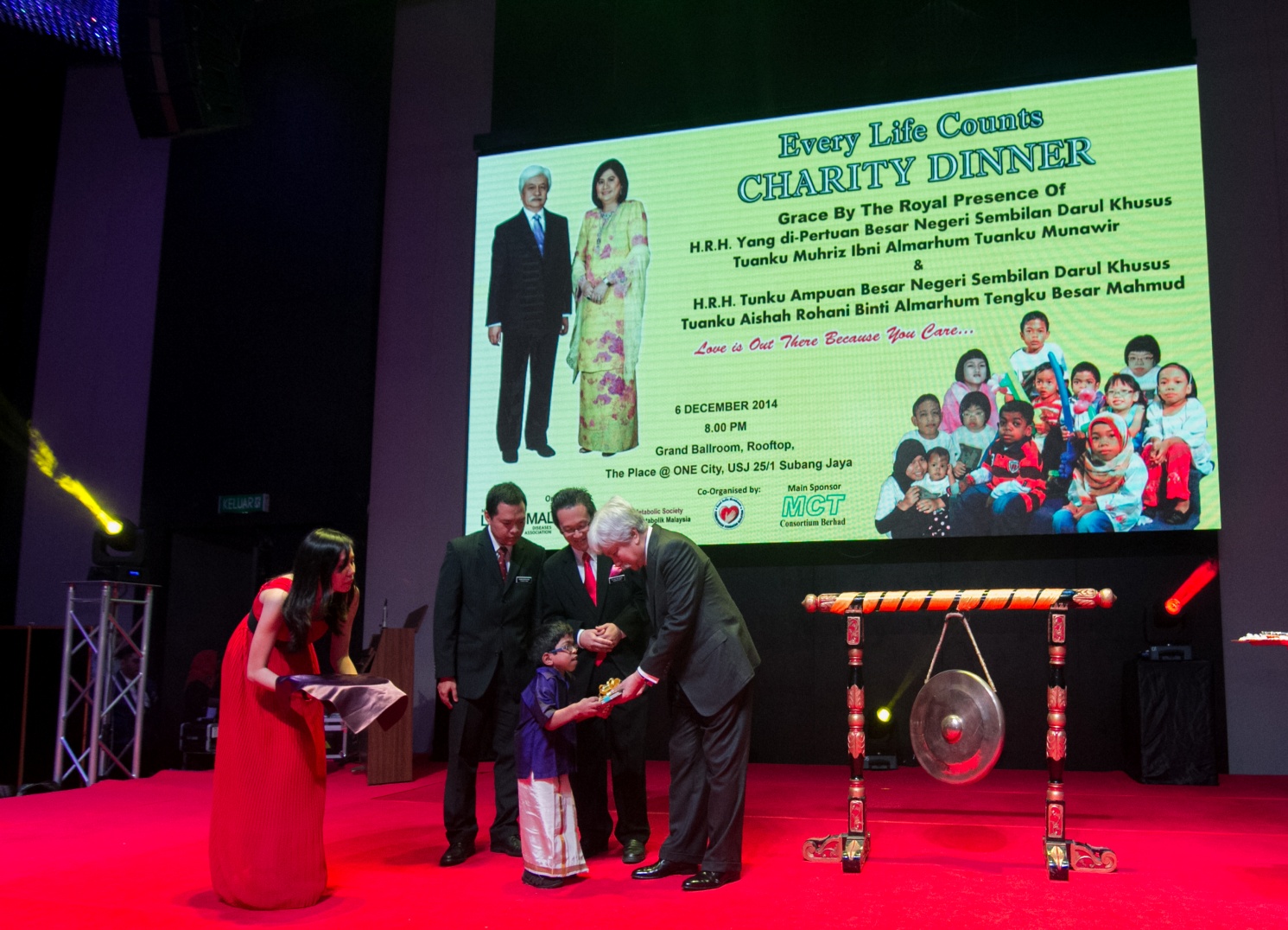 The King receives a gift of one of the members of MLDA
Background Information: Malaysia has 14 states. Nine of the 14 states have their own King and Queen. The nine State KInds will rotate every 5 years to be the King of Malaysia. The State, Negeri Sembilan is a south of Kuala Lumpur, the current King is Tuanku Murhriz ibni Almarhum Tuanku Munawir (the 4th King of Negeri Sembilan after the independece of Malaysia).