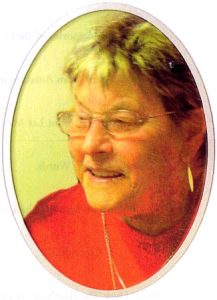 It's been over two weeks now since we received the sad news that Bet had died. I've been putting off writing about her because, if I'm honest, that somehow put off having to take in the fact that she has gone.
Bet volunteered to help run GSDNet many years ago and, very quickly, became the foundation for it. There's a bit of work behind the scenes because – as anyone who has joined within the last 10 years or so will know – there's a hoop to jump through which helps keep out spammers etc. Bet uncomplainingly did her share and much of mine. She was a reliable and constructively critical sounding board for my occasional ideas and a tireless supporter of the ones that we agreed would fly. She put up with my periodic unreliability with grace, charm and good humour. When I was writing my Pompe blog she was kind enough to supply English translations of the original Dutch archive documents.
In short, she kept GSDNet running without thought of praise or kudos – she was just happy to quietly do her bit for the wider community. She is a great loss to us all.
I will miss her personally too. Despite her own struggles, she would regularly check in and ask how my own minor ones were going, ask after my family and so on. We had the easy correspondence of old friends – a friend that I will now never meet in person.
It's only right that we should miss her and mourn her – there just aren't enough Bets in this world as it is. Above all our thoughts should be with her family, in the midst of their grief. However we should not forget to celebrate her too.
Posted on GSDnet by Kevin O'Donnell, April 17, 2012

—
Bet was born in Rotterdam, NL. She came to Australia in 1952. Bet was a foundation member of the Australian Pompe's Association. She was the historian and web designer. Also she wrote most of the information for publications that were produced in the quest to educate the general public. She was a great ambassador for the organization and was greatly admired for her honest descriptions and information on Pompe Disease.
Date of birth: November 22, 1938
Date of death: April 1, 2012