Welcome to the International Pompe Association (IPA)

Pompe News
For Immediate Release January 21, 2015
The International Pompe Association (IPA) is excited to announce our plan to host an international dundraiser for the Second Annual International Pompe Day (April 15, 2015). And we need YOUR help!
International Fundraiser Planned
Proceeds from this fundraiser will go towards producing a short film developed and created by the IPA. The short film will be used to raise awareness of Pompe Disease and will be available to all of our Members and Affiliates for awareness and educational purposes.
As with selecting the date, logo, and slogan for International Pompe Day, the IPA would once again like to ask the international Pompe community for its help in choosing a fundraiser "theme." Most people are aware of the extreme success of the ALS Ice Bucket Challenge. What made it so successful, we believe, is that it: (1) was easy for people to do; (2) it was more or less free (just needed a bucket, ice, and water); and (3) it was fun for others to watch online!
So, we want to ask the international Pompe community to put their "thinking caps" on and come up with some suggestions for what the Pompe Fundraiser could be. Please email your suggestions (along with a brief explanation for why you believe it should be chosen) to Marsha Zimmerman. The IPA will be collecting fundraiser suggestions until Monday, March 2, 2015.
Voting will then take place until Monday, April 6, 2015. The fundraiser will go LIVE on April 15, 2015! Our fundraising goal is $50,000 (USD). Donations can be made directly to the IPA via our Paypal account or by wire transfer. More information on how to donate will be available soon.
Other Ways to Participate in International Pompe Day
In addition to the Fundraiser, the IPA intends to continue our activites from last year. The goal of International Pompe Day is to foster international awareness of Pompe Disease and the slogan for our day is "Together We Are Strong". The IPA encourages everyone to become involved in our Second Annual International Pompe Day to once again show how STRONG our Community is – both in numbers and in passion!
There are several ways that you can participate in addition to the fundraiser! These include:
Upload a photo to the International Pompe Day website.
Participate in the International Pompe Day Art Contest!
There will be four categories for the contest: Ages 0-5; 6-10; 11-18; 18+
Participants can submit an essay, photo, drawing/artwork, etc that depicts what "Together We Are Strong" means to them.
The deadline for submissions is Friday, April 3, 2015 and winners will be announced on April 15, 2015.
More information: Official Rules, Art Contest Entry Form
Become a Supporter!
Organizations are invited and encouraged to become Supporters of International Pompe Day by submitting their logo (or name) for publication on the International Pompe Day website.
Join the International Pompe Day Group on the IPA Community Forum!
To join the Community Forum, please go to: http://worldpompe.org/index.php/community
Once you have registered on the Community Forum, you can join the International Pompe Day Group by clicking on "International Pompe Day" under the Groups tab of the Community Forum, and then click "Join this Group"
On the last 6th December, 2014, Malaysia Lysosomal Diseases Association (MLDA) had successfully organised the 'Every Life Counts' Charity Dinner. It was a lovely and wonderful event.
The event has been organised in conjungtion with the partnership from Malaysia Metabolic Society (MMS) and the Malaysia Ministry of Health. The mean objective of this dinner was to raise money to get up a Foundation to save the LSD children. In Malaysia, public recognize a Foundation more than an association and society. In the past MLDA had many rejections from corporate companies when MLDA tried to ask for a donation and partnership in projects. To be able to establish a Foundation MLDA needed at least 1 million RM.
At MLDA's first dinner in 2012 RM 400,000 was raised. With the last charity dinner with 700 guests participating RM 800,000 could be raised. With the raised money of both dinners MLDA is now able to establish the needed Foundation.
The presence of the State's King and Queen at the charity dinner not only encouraged MLDA to stand for their mission and goal to get good care and treatment for children with LSD's, it also helped MLDA to secure a RM 2 million financial grant from the the Ministry of Finance and an additional RM 1 million from the Ministry of Health.
MLDA is grateful and thanks His Royal HIghness Yang di-Pertuan Besar Negeri Sembilan Darul Khusus Tuanku Muhriz Ibni Almarhum Tuanku Munawir and Her Royal Highness Tunku Ampuan Besar Negeri Sembilan Darul Khusus Tuanku Aishah Rohani Binti Almarhum Tengku Besar Mahmud for gracing the charity dinner.
MLDA also would like to thank the Japan MPS Society, Mr. Takeyuki Akiyama for coming all the way from Japan to share with the audience to impacto of having enzyme replacement therapy (ERT) and the differences between early and late treatment. He is father to two MPS type 6 children. His son Yuto started ERT late and shows now the typical features and symptoms of a MPS type 6 patient. His daughter Noa, however, started ERT early and shows minimum signs of MPS type 6. No one knows that she is an MPS type 6 patient.
MLDA also thanks all members, employees, volunteers and sponsors that provided their best support. Without this help the charity dinner couldn't be organised within a timeline of 3 months. Together, with hope and determination, this charity dinner was made a success.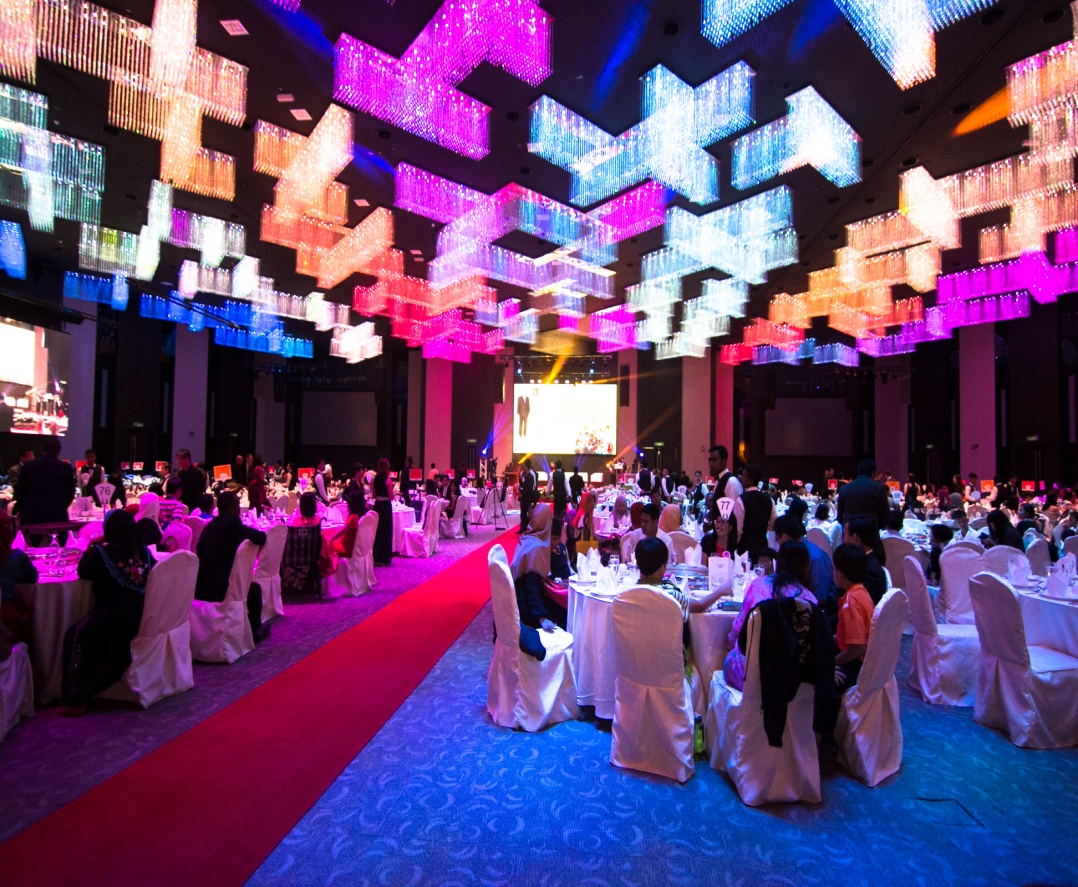 The Charity Dinner visited by 700 people to support MLDA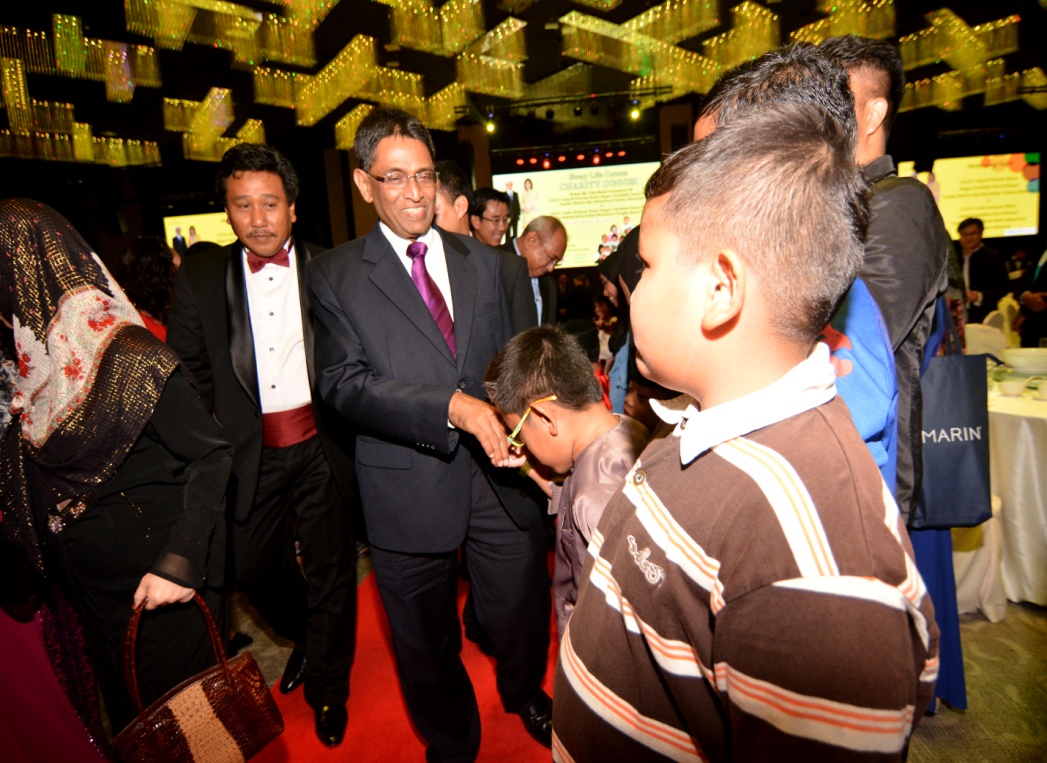 The Minister of Health welcomed by Haziq a MPS type 6 patient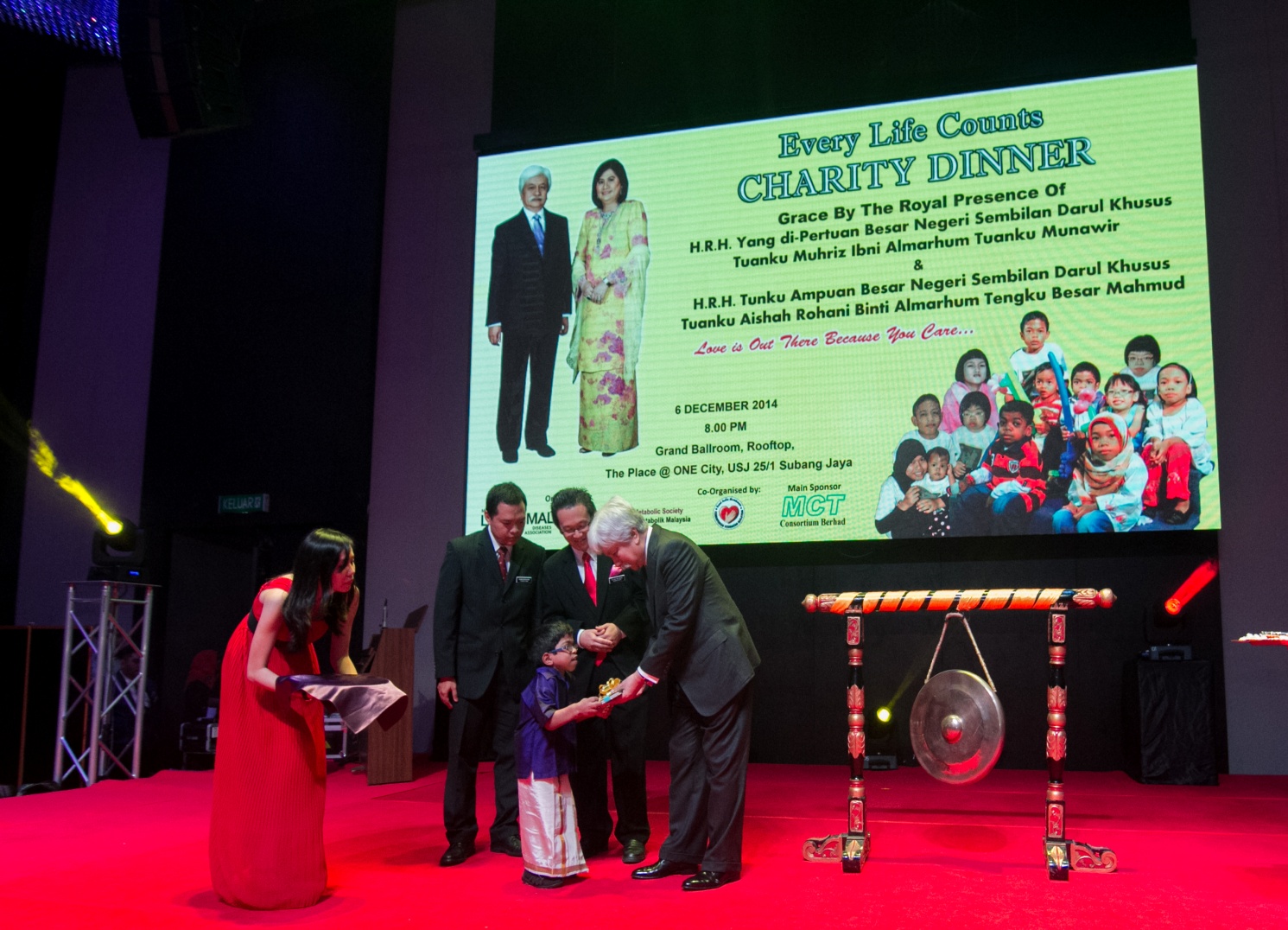 The King receives a gift of one of the members of MLDA
Background Information: Malaysia has 14 states. Nine of the 14 states have their own King and Queen. The nine State KInds will rotate every 5 years to be the King of Malaysia. The State, Negeri Sembilan is a south of Kuala Lumpur, the current King is Tuanku Murhriz ibni Almarhum Tuanku Munawir (the 4th King of Negeri Sembilan after the independece of Malaysia).
BioMarin are pausing further recruitment for their BMN-701 clinical trial and have provided this programme update:
January 2015
BioMarin is pleased to update the Pompe patient community on the progress made in our programme to develop a treatment for people living with Pompe disease.
Over the past year, BioMarin has initiated a global clinical development program of BMN-701 treatment in Pompe patients this is currently ongoing in over 20 countries. The program includes three studies: a switchover study in patients currently treated with commercially available enzyme replacement therapy (ERT), an observational study in Pompe patients treated or untreated with commercially available ERT, and a study to better understand efficacy endpoints used in clinical trials.
We have decided to move to an updated manufacturing process. This has no reflection on the safety or efficacy of the drug but we believe it will provide better long term availability. In order to avoid having to repeat the switchover study to generate the necessary data for regulatory filings, we are pausing enrolment of the switchover study so that the revised material can be introduced. Enrolment to the study will recommence when new material is ready in the second half of 2015.
Patients currently enrolled and receiving BMN 701 study drug will not be affected by this change and will continue to receive existing study drug. They will have the opportunity to continue treatment in the study with the revised drug once it is available. There are no changes planned to the observational or the endpoint studies and enrollment will continue throughout this period.
If you have queries or concerns about your enrolment or participation in this study please contact your treating clinician or medical team.
BioMarin is committed to the Pompe community and to developing a therapy for late onset Pompe disease. We thank you for your ongoing commitment and involvement in this study.
---
Disclaimer: The IPA does not endorse any of the products, medications, treatments or information reported herein. Articles on the IPA web pages are intended for informational purposes, only. We strongly advise that you discuss all medications, treatments, and/or products with your physician.
---