Welcome to the International Pompe Association (IPA)

Pompe News
More information: Press Release
Donate now!
| | |
| --- | --- |
| Paypal (Euro): | Paypal (USD): |
Other options for donations see "How to donate to the 2015 International Pompe Day Fundraiser"
We are excited to announce that Registration is now open for the 2015 International Pompe Patient and Scientific Conference! The Conference will be held in San Antonio, Texas from October 30 - November 1. In order to assist with Conference planning, we ask that everyone who plans to attend please complete the Registration Form. One Registration Form per family, speaker, patient organization representative, physician, and industry representative should be completed.
If you have any questions, please contact me at . As more information becomes available it will be available on the AMDA website. Thanks.
Tiffany House
(IPA Chair, AMDA President)
The 2nd International Pompe Day was organised in the Netherlands by the Dutch Neuromuscular Disease Association in conjunction with the Centre for Lysosomal and Metabolic Diseases. The goal of the day was to provide insight in the latest developments of the several research areas and to give people the opportunity to have a look behind 'the curtain' of the laboratory. Another aim was to allow researchers and patients and their families to meet each other.
In the morning short presentations were given by Ria Broekgaarden (Dutch Neuromuscular Disease Association), Prof. Dr. Ans van der Ploeg, Prof. Dr. Pieter van Doorn and Dr. Pim Pijnappel. They provided from their perspective an insight in the newest developments in Pompe research in the Erasmus MC. It was pinpointed how important continious innovation is and that it goes with little steps.
In the afternoon 6 groups of patients and their family members visited the laboratory of the Centre. Several aspects of research were showed and demonstrated by PhD students and researchers. The topics were:
Development of current enzyme replacement therapy for Pompe disease: A historical overview
Diagnosis of Pompe disease: New molecular insights
Why are there differences between patients regarding disease development?
What happens in the muscles in patients with Pompe disease?
Stem cells: How to make muscle cells from normal skin cells?
The development of gene therapy in Pompe disease
The workshops were very interesting and everyone could ask questions and sometimes even experiment themselves.
No one could of course provide any guarantee if the outcome of this research would be positive and become available. But fact is that much is done to improve the lives of people with Pompe disease.
At the end of the afternoon Prof. Dr. Ans van der Ploeg and Dr. Pim Pijnappel answered the various questions of participants.
The 2nd International Pompe Day was a success. It was very positive for all of us to get in contact with physicians and students and to be able to ask questions and exchange ideas.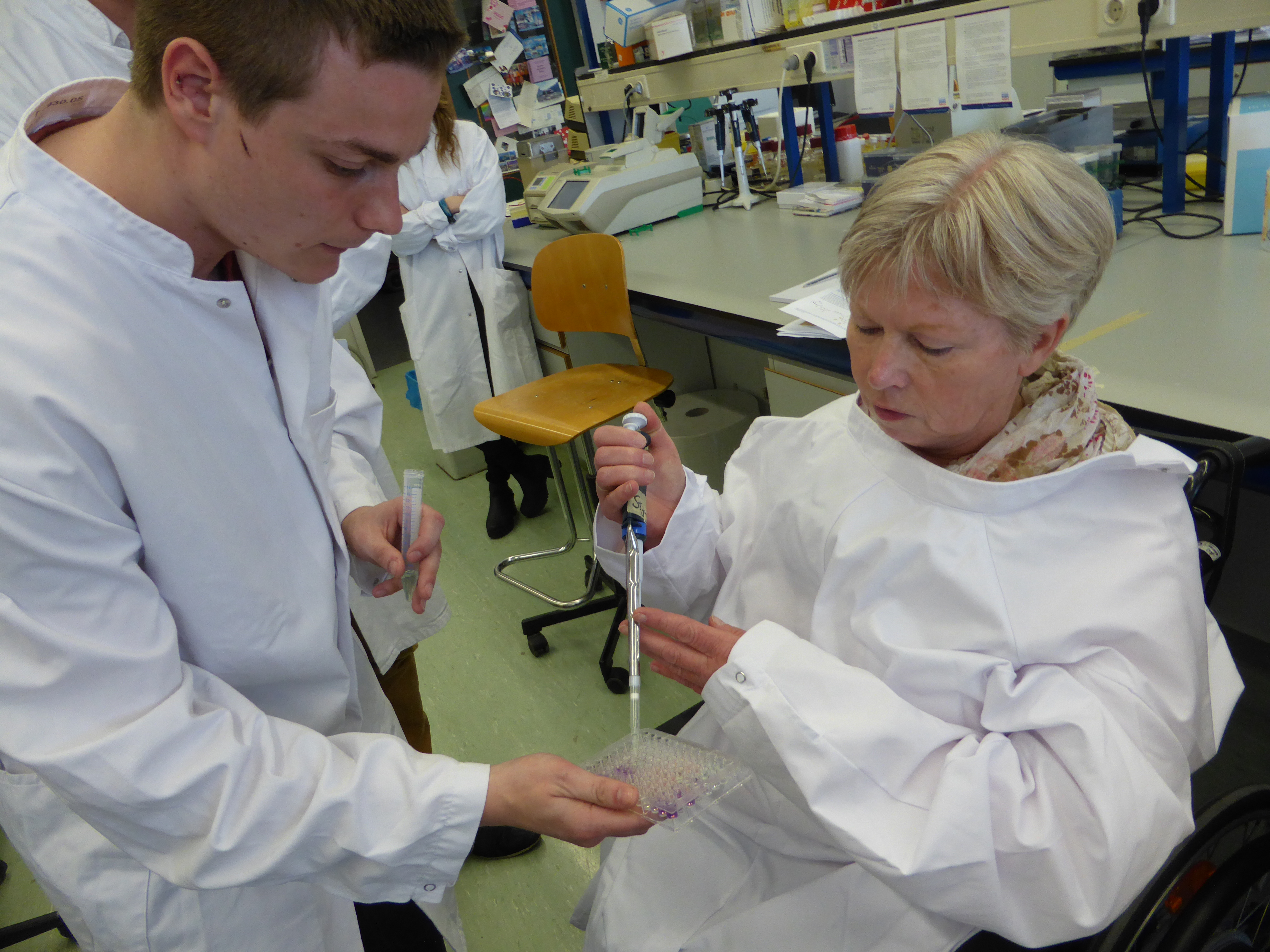 Researcher and patient working together on an experiment.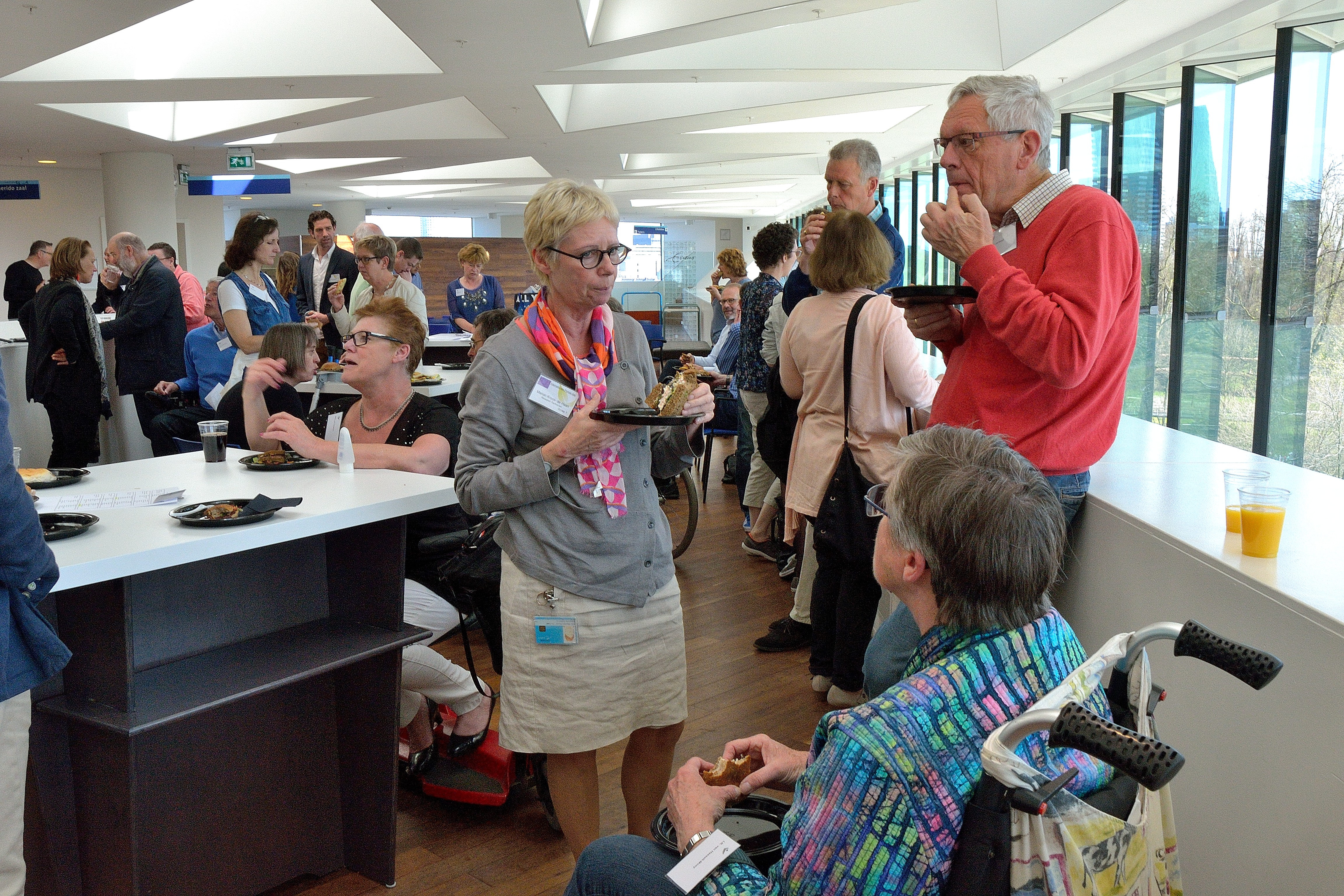 Enjoying lunch and cathing up. Researchers and patients meet.

For Immediate Release:
April 15, 2015
In honor of the Second Annual International Pompe Day, the International Pompe Association (IPA) is excited to announce that "Pause for Pompe" has been chosen by the international Pompe community to be the International Pompe Day Fundraiser!
Goal of International Pompe Day Fundraiser
The goal of the International Pompe Day fundraiser is to raise $50,000 (USD) to develop and produce a short film to raise awareness of Pompe disease. In particular, the need for access to therapy and the importance of early diagnosis will be emphasized. Studies have shown that early diagnosis and access to treatment results in the best long-term results for Pompe patients, and we believe that our short film will help future Pompe patients be diagnosed sooner by raising awareness of Pompe disease.
What is the Pause for Pompe?
The "Pause for Pompe" challenges people to "Pause" (stay completely still) for 40 seconds. This 40-second Pause challenges participants to see what the most severely affected Pompe patients experience–the inability to move. It also represents the 1 in 40,000 people in the world that are affected by Pompe disease. So Pause for Pompe and donate to the IPA's International Pompe Day Fundraiser so that future Pompe patients will no longer be forced to Pause!
How do I participate?
It's easy to participate in the Pause for Pompe! All you have to do is stay completely still for 40 seconds! The IPA encourages everyone to get creative and have fun with their Pause for Pompe!
Some suggestions include:
Strike a funny pose during your Pause!
Organize a "freeze mob" with your friends and family!
Pause with your friends and family!
Make a short video of your Pause!
On the IPA's International Pompe Day website, there are several signs that you can print out and hold during your Pause. Or make one of your own!
To show your support of the Pause for Pompe we encourage you to post a photo or video of your Pause for Pompe on the International Pompe Day Facebook page (https://www.facebook.com/InternationalPompeDay) or on the International Pompe Day website (Photo Upload Form: http://worldpompe.org/index.php/international-pompe-day/photo-upload-form)!