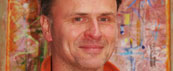 Patients and parents contribute to the understanding of late-onset Pompe Disease.
Pompe Center, Erasmus MC, Rotterdam www.pompecenter.nl: The Pompe Center is an initiative of researchers and clinicians of the Erasmus University, the Sophia Children's Hospital, and the Academic Hospital, united in the Erasmus MC, Rotterdam, aimed to function as a Center of expertise in the field of Pompe's disease. One of its activities is the questionnaire project "Investigation into the clinical condition of late onset Pompe patients", that is carried out in co-operation with the International Pompe Association.
The questionnaire project was started because at this moment insufficient information is available about the course of the disease and the condition of juvenile and adult patients. In the light of the current developments in the field of Pompe's disease it is of great importance to map out the group of patients properly.
At this moment, 260 patients from The Netherlands, the United Kingdom, Germany, Australia, the United States, and a few patients from other countries have signed the consent form, indicating their willingness to participate in the project. By now, 170 of those patients have already returned their completed questionnaire, and every day some more are received.
By now, the data from the first 52 Dutch patients have been analysed. These data are very important for the understanding of late onset Pompe's disease and a strong background for more elaborate analyses. Much detailed information was obtained on, amongst others, the path to the final diagnosis, the problems already encountered during childhood, the course of the disease, the use of care facilities and care providers, and the quality of life of the group of late onset Pompe patients in the Netherlands. The statistical analyses of the data from the other countries will be started soon.
More information?
The questionnaire is available in Dutch, English, French, and German. If you wish to participate in this questionnaire project, please contact the IPA representative for your country, or Chris Van der Meijden, MD, on c.vandermeijden.1@erasmusmc.nl.
Results
2012: Effect of enzyme therapy and prognostic factors in 69 adults with Pompe disease: an open-label single-center study
2013: Impact of enzyme replacement therapy on survival in adults with Pompe disease: results from a prospective international observational study