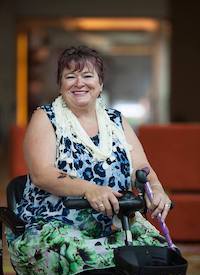 The New Zealand Organisation for Rare Disorders (NZORD) will present the New Zealand Rare Disease Day Awards (RDD Awards) for the first time in 2019. The winner in the Patient Advocacy and Support Award category is Allyson Lock. She has been nominated as a tireless fighter for the Pompe community.
Allyson has spent the past eight years lobbying and supporting patients in New Zealand. She is President of the New Zealand Pompe Network and since her diagnosis has fought to ensure that the cost of treating Pompe with enzyme replacement therapy is covered by the New Zealand health care system.
We congratulate Allyson on the award.
(Photo courtesy of Allyson Lock and the New Zealand Organisation for Rare Disorders, photographed by Levi Gershkowitz of Living In The Light Of Rare Diseases.)