July 2-4, 1999
Naarden, the Netherlands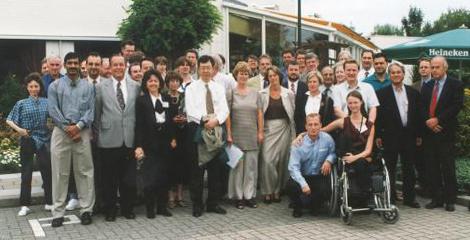 Preface: Pompe's disease: From diagnosis to treatment
In 1932 the Dutch pathologist J.C. Pompe discovered a disease which caused a baby to die from heart enlargement. This discovery was the actual beginning of the process which will lead to the finding of a therapy for Pompe's disease. This therapy is now within reasonable expectations.
The process from diagnosis to therapy involves various stages. Actors playing a role in these stages are doctors, researchers and industries. Patient organisations are an emerging partner in the process which they can substantially accelerate. For many patients suffering from as yet incurable diseases, it is a race against time, in which genetic technology offers new tools.
The crucial partners in the process from diagnosis to treatment were invited by patient organisations from several countries to join their forces on the First Conference of the International Pompe Association. This meeting took place in Naarden, the Netherlands, from 2-4 July 1999 and both doctors, researchers, industries and patients actively took part in this exciting conference.
In this report all partners present the results of their tremendous commitment to help people with Pompe's disease and their families to cope with the disease and to find an effective treatment. A joint commitment which has made a therapy for Pompe's disease a realistic prospective.
The researchers will show how Enzyme Replacement Therapy (ERT) in Pompe's disease (or acid-maltase deficiency) has reached the phase of testing in affected humans. As early diagnosis of the disease becomes even more important in the scope of a possible therapy, work in this area will be discussed as well. In addition, the results of the work into gene therapy are reported, which has great potential for an effective treatment in the future.
The involved partners from the industry are committed to bring Enzyme Replacement Therapy to the market as soon as possible. In this report they give insight in the process of enzyme production and of market approval.
For patients and their families the principal issue is how to act in the uncertain situation which has arisen: on the one hand there is hope and happiness because a drug might influence their disease positively and on the other hand there are still a lot of unanswered questions with regard to the effect of the drug and the time schedule for availability of the treatment. Patient representatives will stress the importance of information, support, and ethical debate.
The final part of the conference and this report is reserved for a very joyful event: In order to share experiences and to increase the influence of patients (for example towards politicians), national patient associations have founded an International Pompe Association (IPA).
IPA will become the representative body for people with Pompe's disease and their families all around the world. Its mission and objectives are described in this report. Moreover, information can be found on the IPA Internet site (www.worldpompe.org).
As chairmen of the IPA we are very proud and thankful to hand over to you the summarised results of the extensive work to which doctors, researchers, industries and patient associations have committed themselves over the last decades.
Facing the new decade, we trust that an effective treatment for Pompe's disease will be available soon.
Randall House
Ysbrand S. Poortman
Conference Agenda
I. Historical Perspective and the Way to Therapy
Pompe´s disease in historical perspective and the way to therapy
Dr. A.J.J. Reuser, Erasmus University Rotterdam, and Dr. A.T. van der Ploeg, Sophia's Children Hospital Rotterdam (the Netherlands)
II. Diagnosis and Clinical Variability of Pompe's Disease
Clinical variability in Pompe's disease
Dr. M.B.C. Loonen, Rotterdam (the Netherlands)
Epidemiological studies in glycogen storage diseases type II
Dr. M.G.E.M. Ausems, University Medical Centre Utrecht (the Netherlands)
Early detection and diagnosis of Pompe
Prof. Dr. J.J. Hopwood, Women's & Children's Hospital Adelaide (Australia)
III. State of the Art of Research in Enzyme Replacement Therapy
A transgenic approach to enzyme replacement therapy in Pompe patient
Mr. A. Curtis, MBA, Genzyme Corp. (USA), et al.
Treatment Strategies for Glycogen Storage Disease Type II
Dr. Amalfitano, Duke University Medical Centre (USA)
The challenges of rhGAA manufacture
Dr. B. Devlin, Synpac (NC), Inc. (USA)
IV. Patient Initiative and Ethics
From patient initiative to treatment
Ms. M. Schoneveld van der Linde, MA, VSN (the Netherlands)
Knowledge is power
Dr. K. O'Donnell, AGSD (UK)
How to do good and to prevent harm?
Dr. H.J.M.A. van den Boer – van den Berg,
Academic Hospital Rotterdam (the Netherlands)
Forming a national Pompe group: our experience
Ms. M. House, AMDA (USA)
The International Pompe Association; position, objectives, policy and activities
Mr. Y. Poortman, VSN (the Netherlands)
V. Policy of the International Pompe Association
A. Introduction and mission
B. Objectives to fulfill the mission
APPENDIX 1
Credits
The sponsors of the conference and this report are
Pharming/Genzyme LLC
Synpac (North Carolina) Inc.
Vereniging Spierziekten Nederland
Towards a therapy for Pompe's disease
Report of the First meeting of the International Pompe Association
2-4 July 1999
Naarden, the Netherlands
Compiled by
Vereniging Spierziekten Nederland
December 1999
Baarn, the Netherlands
Editors
S. Hekkelman
H. van Veenendaal, M.Sc.
Vereniging Spierziekten Nederland
International Pompe Association